November 14, 2018
Sacramento, CA - For nearly a decade, the California Charter Schools Association (CCSA) has publicly called each year for the non-renewal of chronically underperforming charter public schools. Today, CCSA called for the non-renewal and closure of seven charter schools across the state.
A commitment to student learning is woven into the DNA of California's charter schools. In exchange for the freedom and flexibility to tailor teaching to meet students' individual needs, charter schools agree to be held to higher standards. No other type of public school has a greater commitment to accountability for its student outcomes.
"We want all schools to provide a high-quality education to their students. And we believe all public schools should be as accountable as charters are to the public for their results. When charter schools fail to help students succeed academically, they should close," said Jed Wallace, president and CEO of CCSA. "We urge the school districts that authorize these charter schools to hold up their end of the bargain and close underperforming schools that have failed repeatedly to support student learning outcomes."
Recommending a school's closure is a difficult decision but CCSA is committed to working with closing schools to find new options that will better meet the academic needs of students and families.
"Charter schools in California aren't about bureaucracy or protecting the status quo," said Elizabeth Robitaille, SVP, School Performance, Development, and Support of CCSA. "Rather, charter schools innovate, they help students accelerate their learning and thrive, and families can choose the learning model that works best for their kids. Every five years they must work with their authorizing school district or county office of education to prove how they are supporting student learning. When charter schools fail to demonstrate they are increasing student learning, they must be held accountable, plain and simple."
As the membership and advocacy organization that supports the 1,323 charter schools in California in 2018-19, CCSA has used an academic accountability framework to guide its advocacy for renewing and replicating schools for nearly a decade. Guided by its members, CCSA worked to establish minimum criteria for charter renewal using a framework that assesses a multi-year view of a school's performance on multiple student outcome measures. CCSA starts with initial filters generated by publicly available data (State Rank, Similar Students Rank, Growth and Postsecondary Readiness). For charter schools below the initial filters, CCSA does a deep-dive Multiple Measure Review to ensure charter schools have the opportunity to provide additional compelling evidence of growth in student achievement.
The following schools fall below CCSA's minimum renewal criteria for the 2018-19 school year and are chronically underperforming on several other academic performance measures.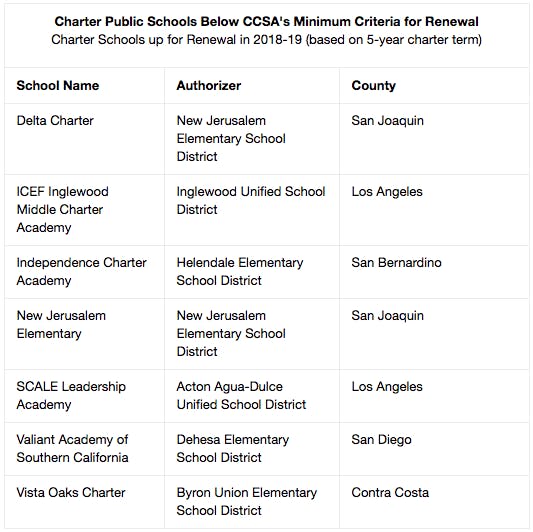 Spotlight on New Jerusalem Elementary School District: 
Occasionally, charter schools and/or their authorizing school districts will seek to renew charter schools early (out of their 5-year cycle). CCSA's position is that charter schools should have five years to demonstrate results and should be held accountable for their performance during that charter term. If authorizers seek to renew charter schools early/under-the-radar, then CCSA calls for the authorizer to hold these schools to account in their fifth year and to revoke these schools due to their chronic underperformance. This is the case with both Delta Charter and New Jerusalem Elementary, both of which were renewed early and out-of-cycle by their authorizer (New Jerusalem Elementary School District).
A Lack of Meaningful Accountability for Traditional Public Schools 
The focus of CCSA's Annual Public Call for Non-Renewal announcement is to hold underperforming charter schools accountable. Yet there is no similar accountability for district-run traditional public schools' performance. This means chronically underperforming district-run schools can languish year after year to the profound detriment of the students they serve without any deep dive review or consequence.
Applying CCSA's Academic Accountability Framework, CCSA identified more than a thousand district-run schools across the state that are underperforming on publicly available measures of academic performance. These schools have low State Ranks, low Similar Students Ranks, low postsecondary readiness and lack of improvement over time on state test scores, and would require a Multiple Measure Review deep dive under CCSA's accountability framework. In fact, there are 14% of traditional public schools below the initial filters of CCSA's accountability framework, compared to 12% of charter schools. The public can view CCSA's Regional Snapshots to find the percentage of traditional public and charter schools meeting CCSA's initial filters by district, city, and county.
If these district-run schools were charter schools, once every five years they would be responsible for demonstrating how they are increasing student learning. While the state launched a new California School Dashboard, it is unclear how many schools will be identified under its numerous measures as underperforming and thus eligible for support. Traditional public schools identified for "support" under the Dashboard will be asked to reflect on their performance for extended periods of time, but without any real accountability, consequence, or clear pathway toward improved access to student learning. We call on school districts to hold a higher bar for their district-run schools to ensure all public schools are as effective as possible in supporting California's students to learn and succeed.
CCSA's Accountability Framework 
To meet the academic threshold for CCSA renewal advocacy support in 2018-19, a charter school needed to meet one of the four criteria below. Charters meeting ANY initial filter OR showing academic success through the Multiple Measure Review met the academic threshold to receive CCSA's full advocacy support for renewal or replication. The charter schools included in CCSA's Public Call for Non-Renewal did not meet any of the initial criteria and the Multiple Measure Review did not yield evidence of student outcome success and growth in achievement beyond that which is seen at other schools or the schools refused to participate in this secondary review. More information is available at http://www.ccsa.org/accountability.
Initial Filters
Status measure: State Rank of 4 or above in 2 of the last 3 years (2016, 2017, 2018)
Growth/ Postsecondary readiness
Similar Students: Similar Students Rank of 4 or above in 2 of the last 3 years (2016, 2017, 2018)
Multiple Measure Review
Schools below ALL the initial filters or in the bottom 5 percent statewide on SBAC can share outcomes aligned to California's 8 state priorities as described in the school's Local Control Accountability Plan (LCAP). Schools can tell their own story of success by choosing measures most closely aligned to their mission.
CCSA's Minimum Academic Accountability Criteria would not apply if a school is designated as Dashboard Alternative School Status "DASS," is less than four years old, or has less than 30 valid test takers.
Learn More
About California's Charter Schools 
California's charter schools are public schools built to put the needs of students first. Public, free, and open to all, charter schools are a growing and valuable part of our public education system. They offer a different approach -- one that is as unique as the kids they serve, one that puts kids above bureaucracy, and one that gives passionate teachers the flexibility to create dynamic lesson plans tailored to kids' individual needs. As a result, charter schools send more kids to college and are preparing more kids for the jobs of tomorrow.